Innovation and exploitation: India's e-commerce boom threatens to upend local businesses and workers' rights | India
The apps are there for whatever you need: an extra mango, a carton of milk, a pint of ice-cream or a replacement phone cable for the one your dog chewed in half. For those living in the urban centres of India – and increasingly in the smaller cities and towns beyond – almost anything can be delivered at the touch of a button – sometimes within less than 10 minutes.
Online shopping, otherwise known as e-commerce, is rapidly changing the way India shops and nowhere is that clearer than through quick commerce: the apps that can deliver groceries and other essentials to your door in the time it takes to hard boil an egg and at a cost of 30p – or less – for the service.
While only 6% of India's $900bn retail market comes from e-commerce, the market is one of the fastest growing in the world. In 2022, 200 million people in India bought something online, while it was fewer than a million just a few years before.
But in a country of 1.4 billion people and rising, with the economy growing faster than almost anywhere else in the world, companies and analysts say these numbers are still only scratching the surface. By 2027, the number of online shoppers is predicted to rise to 500 million in a market worth $170bn.
While some say the innovations could make India a global leader in new ways of doing business online, others are more cautious in their predictions. Some analysts fear the rise in e-commerce has opened the door for large businesses to gain monopolies over retail, at a cost to the vibrant traditional marketplace, while others say the boom has been built on the back of the exploitation of India's growing gig workforce.
The sudden rise of e-commerce is all the more remarkable given the way that Indian people shop has not changed for decades. Unlike in the west, where vast supermarket chains command monopolies, strict regulations mean India has retained its hyperlocal way of shopping.
Fresh produce is predominantly bought from local markets and sabziwallas (vegetable sellers). Other essentials are often bought in the country's 11 million kiranas, neighbourhood shops that are often described as the backbone of India's economy. While big-name fashion brands are popular, people still mostly buy their clothes from locally run shops and markets, particularly those living outside the urban metropolises.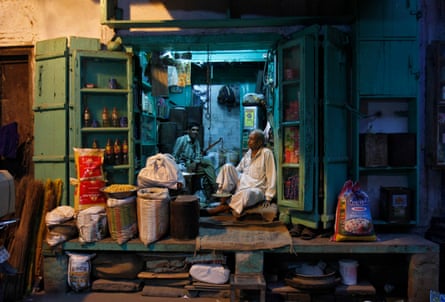 For 10 years the sector has been dominated by two companies, Flipkart – an Indian start-up that was later acquired by the US retail conglomerate Walmart – and US tech giant Amazon. Together they not only account for about 75% of the online shopping market, but given the lack of commercial chain monopolies in India, they are also the two biggest commerce players in the country overall.
Yet the e-commerce landscape is changing and expanding rapidly as India's economy, the fifth largest in the world, continues to grow. Companies including Swiggy, Zomato, Big Basket, Zepto, Meesho, Blinkit, Nykaa and Dunzo, which deliver everything from restaurant food and fashion brands to electronics, instant groceries and medicines, have become ubiquitous not just in the city centres but beyond.
While 90% of Indians still earn less than £250 a month, and those outside of rich urban centres are less likely to have disposable income, according to all e-commerce companies who spoke to the Guardian, much of their growth is in the smaller Indian cities, those with a population of between 20,000 to 100,000, indicating that shopping online is no longer solely the domain of the rich urban elite.
Swiggy, one of the first apps to offer restaurant food delivery and which has recently expanded into quick grocery delivery, operated in about a dozen Indian towns and cities in 2018; today it is close to 600. Rohit Kapoor, a company CEO, credits its growth in part to the "digital equalisation" he has witnessed across India, in which social media has exposed people from across social strata to new things while e-commerce platforms finally made it possible for people to access them.
According to Kapoor, while Swiggy's highest frequency customers are the middle and upper classes, and those in small towns are still often reluctant to go online for daily essentials, a shift was happening fast. "Honestly, I think this market is just starting out," says Kapoor. "I feel there's massive potential over the next 20 to 30 years."
Sameena Mir, 23, a student from Srinagar in Kashmir, says that she has stopped visiting markets altogether. "Online the prices are comparatively better and an amazing variety of products are available on different sites," she says. "Also the products are genuine and original, especially the beauty products, unlike our local stores where copies are mostly sold.
Much of the boom has been made possible by broadening access to cheap internet. There are 659 million people with smartphones in India and the cost of mobile internet data is among the lowest in the world. By 2025, 1 billion Indians are expected to have access to the internet and 33% of them will be online shoppers.
The Covid pandemic has also played a significant role, as lockdowns sent people online for groceries for the first time, while forcing traditional sellers to go digital as a means to stay afloat. It also prompted a wave of new e-commerce enterprises trying to take advantage of the sudden demand.
The third shift has been around digital payment systems. Only few years ago, India was predominately a cash-based society, with credit and debit cards used by only a small section of society. However, in the past couple of years this has been leapfrogged by a transition to a Unified Payments Interface (UPI), in which millions of Indians have bank accounts linked to apps and smaller items – down to a cup of chai or a single banana – can be paid for using a QR code on a mobile.
According to the Indian government, which has proudly been pushing the scheme, there were 74bn UPI transactions in India in 2022, amounting to 126tn rupees, a 91% increase from 2021. It has not only made swathes of the population more digitally literate, but also made it much easier to pay for goods bought online.
'They treat us like animals'
Yet though e-commerce platforms have created employment for millions of gig workers at a time when jobs are scarce in India, the laws around their employment have lagged behind, leaving them vulnerable to exploitation and abuse.
Shaik Salauddin, who leads the Indian Federation of App Based Transport Workers, says there are 23 million gig workers in India working without proper legal protection. Companies including Swiggy, Flipkart and Zepto emphasise that they offer their workers benefits such as medical insurance, accident cover and maternity leave, but agreed that more could be done across the sector.
Salauddin says that, as competition has increased and growth slowed over the past year, many e-commerce companies have gone on cost-cutting sprees that have directly targeted gig workers in order to stay profitable. Wages sometimes barely cover petrol costs, while workers have to endure harassment, violence and "inhumane" conditions.
Recent incidents have included one female gig worker whose throat was slit and another who was murdered by someone who wouldn't pay for a delivery. Meanwhile, those who speak up against poor conditions are often banned from working or threatened by bouncers. According to a survey by the thinktank Center for Internet and Society, one-third of Indian gig workers fear violence or assault at work.
The issue recently came to the fore after the workers for Blinkit, one of the e-commerce apps promising 10-minute delivery, went on strike in April after their wages were cut by over 50% to 15 rupees (15p) a delivery. Workers told the Guardian how they were not given access to a toilet or shelter in between deliveries, they had no days off with working Sundays compulsory and if any customer complained they were automatically made to pay out of their wages. Some workers say they were threatened with police if they complained about conditions.
Nitin Sharma, 42, from Gurgaon, described how he made only 300 rupees (£3) for a 10-hour day, and 200 rupees (£2) of that went towards petrol costs, leaving him with earnings of just 100 rupees (£1) a day. "They treat us like animals," he says. "It is like working for free."
Sumit Kumar, 25, said the company was exploiting people's desperation. "Because there are no jobs, thousands of young people like me are risking their lives and working hard even when we know that at the end of the day we are only earning enough for a few cups of tea," he says. "It is not possible for us to survive on this."
The workers also say nothing has been done to address the rising tide of abuse they are facing. Mohammad Yaqoob, 40, a Blinkit driver in Delhi, says he is often treated badly by customers because he is a Muslim.
"A customer recently cancelled the order and abused me when I went to deliver an order on the day of Hindu festival of Holi. 'These are products for Holi. I can't take it from the hand of a Muslim,' he yelled at me," said Yaqoob. "I felt helpless and humiliated. I consulted my manager but they did not help. They also misbehaved with me."
The recent strike ended after Blinkit agreed to "restructure payments". In a statement to the Guardian regarding the allegations made by workers, a Blinkit spokesperson said they were "based on incorrect and incomplete understanding of the situation".
'10-minute' grocery delivery
Zepto is one of the country's "unicorn" start-ups, which offers 10-minute delivery of groceries and other essentials in hundreds of cities. While "10-minute" grocery delivery has been piloted in several countries, including the UK, nowhere has it been rolled out at such scale as in India, a country almost the size of Europe. In just two years, quick commerce has become the fastest growing sector in Indian online shopping.
Launched in 2021 by two 18-year-olds who had been studying at Stanford University in the US but were forced to come back home to Mumbai when the pandemic hit, Zepto is worth $900m, making its founders India's youngest millionaires.
It began as a service delivering groceries over WhatsApp to a single Mumbai neighbourhood during lockdown; less than two years later, it is present in all major Indian cities and has plans to expand. "Today Zepto is bigger than most of the traditional offline grocery players," says co-founder Aadit Palicha.
In order to process orders at speed, the company has developed a software that streamlines the process of packing, bagging and dispatching groceries down to about 75 seconds, and built a network of dark stores that mean delivery distances average about 2km.
"We're multiplying at a scale of millions of customers," says Palicha. "From our vantage point, the growth of quick commerce in India is going to be bigger than anyone bargained for."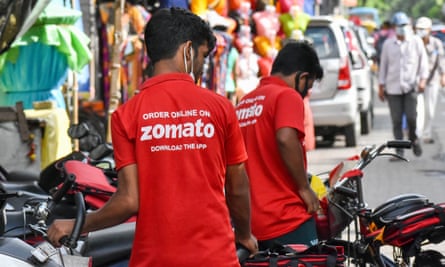 But even as more players enter the market, some are fearful that the boom is also opening the door for the large corporations and powerful industrialists to monopolise India's retail sector and made it difficult for independent e-commerce start-ups such as Meesho – a popular app for affordable and second-hand fashion – to compete and survive, despite having raised nearly $1bn in funding.
The Tata group, India's largest conglomerate known best as a producer of cars and steel, has recently become a major player in e-commerce, opening its own online shopping site and investing in online grocery delivery app Big Basket.
Reliance, one of the most powerful retail, petrochemical and telecom conglomerates has also made significant inroads into e-commerce through its online shopping platform jiomart and a 25% stake in quick grocery delivery app Dunzo. A recent report by the research firm Berstein predicted that Reliance would soon be the top e-commerce player in the country, feeding wider concerns that the gains of India's economic growth are being concentrated in the hands of a few corporations and their billionaire owners.
'This is the future'
Much of the pushback has come from India's powerful network of traditional local neighbourhood kiranas – referred to colloquially as 'mom and pop stores' – who currently account for about 80% of India's grocery market, compared with the 1% of groceries currently bought online.
Some have gone digital or partnered directly with e-commerce platforms; Flipkart, for example, says 200,000 kiranas are among its 1 million sellers and 30% of its deliveries are through a network of these local shops. But many remain concerned about the impact of these emerging platforms on their businesses.
Balwant Singh, 30, who runs a kirana in the Saket area of Delhi, says he used to have 100 dedicated customers who would buy all their groceries from his shop but that number was reduced to about 30 after buying from apps became more popular.
"The rest of the customers come to buy small items occasionally," says Singh, who recently began doing home deliveries in a bid to keep his business alive.
"I sometimes deliver as little as [one] half-litre milk packet in which my profit is less than half of one rupee. But I am doing all this to somehow retain customers and provide a better alternative than online shopping."
This has proved problematic for the BJP government, as the shopkeepers and network of small businesses wield large amounts of power, through local influence and robust unions, and are a crucial electoral group.
The monopoly of Amazon and Flipkart, two foreign businesses, over India's e-commerce market has also not sat well with the BJP's ultra-nationalist political agenda, while being a major source of contention for the powerful trade body, the confederation of all India traders.
In 2021, in an apparent bid to break the dominance of the foreign big tech players and appease the small businesses community, the government entered into the e-commerce sphere itself as a backer of the Open Network for Digital Commerce (ONDC).
A public-private enterprise, the idea of the ONDC is to allow companies or individuals to build their own network for selling online and connect them up with partners who could deliver the goods, without having to go through Amazon or Flipkart and without paying any commission. It is in its early stages, but ministers have claimed it will "democratise" e-commerce in India, give more autonomy to businesses and bring down costs.
Some have hailed its model as a revolution that could be copied across the world. "This is the future, it will change how business is going to run," says Sooryah Pokkali, a network participant at ONDC. Others, however, have questioned its feasibility and accountability mechanisms.
Pokkali acknowledges it is "too early" to draw any comparisons with companies such as Amazon and Flipkart, admitting that there was some "inefficiency" and "the consumer experience could be a lot better" on the network. "We are very far from being at that level, there are a lot of loose ends that need to be tied up, but eventually we'll get the structure," he said.
A digital divide
Yet for all the growth, India is still hampered by a significant digital divide. More than 50% of the country is still without internet access, considerably more in rural areas, while the aspirations of online shopping remains out of reach for the poorest in society, who still number in the hundreds of millions.
Hira Lal Raigar, 62, a retired teacher from the village of Sarangpura in Rajasthan, is among those who remain suspicious of e-commerce. He has spent his life buying daily necessities from the local kirana and a few times a year popping to the nearby town if he needs clothes or shoes.
"I have never used the internet for online shopping and do not think I will ever be able to do so," says Raigar. "How can I buy a shirt without checking the quality of its cloth by hand? Online shopping might be a thing in big cities but here in the villages, it is still very odd."
Aakash Hassan contributed reporting from Delhi